OUR SOLUTIONS FOR GROWTH IN COMPLEX MARKETS
In a constant endeavor for service excellence through reducing cost-to-serve, cost-to-acquire, and delivering results; ASK's consulting services' philosophy can be defined as follows:
We at "ASK" for consultancy believe in a core group of guiding principles that work to produce high quality products on behalf of our customers, as well as to dictate our commitment for the delivery of a finished and definable product that has added-value. We invest in our versatile experience through working with the various segments of the businesses following the "bottom-up" business methodology"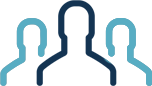 ADVISORY
& CONSULTING SERVICES
Advising and consulting clients' businesses,
without intervening in operations.

MARKETING SERVICES
& RESEARCH
Seeking & identifying
adequate markets for the
clients' businesses.

Assisting in materializing
DEALS.
Get Inspiring Notes